22 May /

Front panel for my own electronic boards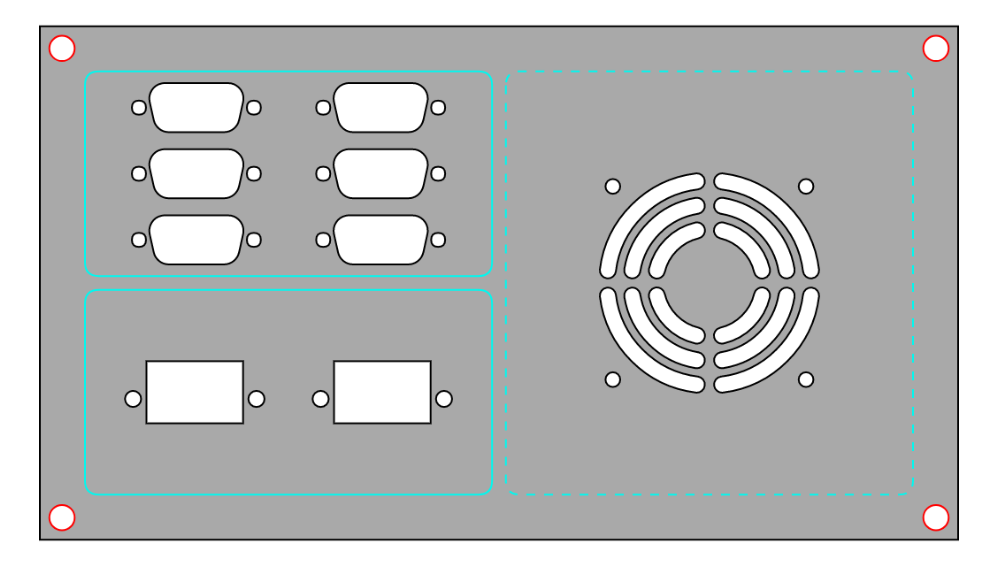 My first attempt to make a front panel was not the most sophisticated one. I needed just a single and very common connector, a D-SUB (DB9). The electronic board attached to this panel was not the main device in the project. However, well-finished housing is always a desirable outcome for everyone working in product development. I used a small German hobby CNC to mill the cutout. It was a nightmare!
The machine was not suitable for this kind of work since its spindle did not have enough power to perform the task without overheating. I could have hired some company to do the job, but it would have been too expensive for my purposes. I know that my machine was not suitable for the task, but paying something between 12 USD and 50 USD for each single panel was not an option at all.
We worked on several projects since then, but I don't like to repeat things because they were not done right for the first time. Specially because a small business knows the cost of waste. For this reason, one thought remained stuck in my head: "I have to solve this problem in order to efficiently manufacture my own products". I was able to bring this to another level when a former engineering student of mine arrived from his internship in Germany and told me that they used to buy custom panels from specialized companies. I was very curious about it and did a little research over the internet. After that I was motivated to develop a panel designer for my own purposes in order to fill the gaps noticed in the available tools. Table below summarizes the short survey while including my own panel designer:
|   | Front Panel Express  | DataPro  | Redco Audio  | MWF Custom Panels  |
| --- | --- | --- | --- | --- |
| Choose size freely  | | | | |
| Extensive connector library  | | | | |
| Single DB9 plate < 10 USD  | | | | |
| Ships free or single price  | | | | |
| Fast Design  | | | | |
| Visually appealing arrangement  | | | | |
| Output with technical details  | | | | |
| Easily fits to enclosure  | | | | |
Note that only the first three columns were applicable at that time, since my own MWF Custom Panel designer was developed after this research. In a future post (probably the next one) I will talk about the development of this tool. There is always something to be done as a Knowledge Based Engineering (KBE) tool.
Now I have a tool which fits exactly to my own purposes and to the purposes of other electronic device designers. Obviously, a panel designer was not enough because there is so much potential for automation of the entire process. This means that once the designer finishes its design and confirms product purchase, the CNC code is generated automatically with a checklist for the CNC Machinist. Actually, it is a very nice process which makes me and my colleagues (which worked in this project) so proud of having something so useful and autonomous in our company. It would be a good idea to talk about this aspect of the project too…